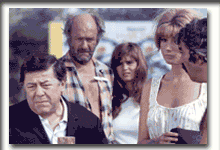 Inspired by John Steinbeck's novel "Cannery Row", "Les Jambes en l'Air", which can be very loosely translated as "having it off!", is the story of a marginal couple, César and Favouille, who set out to find their youngest daughter, who, at 17, had run away from home.

Some friends join the couple and their two other children. And the search begins to turn into a sort of party. New relationships develop within the family and the group. Tensions, needs and desires all pressure them to conform to laws and accepted behaviour.

But freedom cannot be negotiated; freedom is seized.



A Franco-Italian co-production: Paris Cannes Production Ako-Films (Paris) - Chiara Films (Rome)
Associate producer: Paris Cannes Production
Director: Jean Dewever
Screenplay: Jean-Charles Tacchella
Adaptation : Jean-Charles Tacchella - Jean Dewever
Dialogue : Jean-Charles Tacchella
Director of photography: André Dubreuil
Music: Romuald
Cast: Georges Géret (César, father), Sylva Koscina (Favouille, his wife), Maria, Schneider, Dominique Villermet and Thierry Missu (their children), Christian Barbier (Marcel), Jean-Claude Massoulier (Fernand), Edouard Niermans (Bruno), Maitena Galli (Vicky), with the participation of Francis Blanche